The Fine Art of Preparing Your Home for Sale in Santa Barbara
In Santa Barbara, staging your home before you list it for sale has become essential. It's important to realize that staging includes not just the final creative step of placing furniture and art to create a neutral, but enticing look for potential buyers. It includes all the hard work of preparing your home for sale: repairs, upgrades, decluttering, depersonalizing, and cleaning, as well as placing furniture.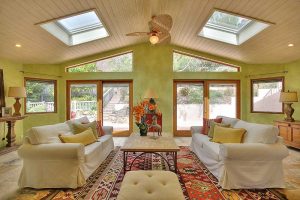 Research shows that homes that are staged sell faster and for more money. How much more? Laurie Hummer, a local Santa Barbaran who with her siblings recently went through the process of preparing her mother's condo for sale, returned more than three-fold their investment in new flooring, fixtures, countertops, paint, and professional cleaning. They spent nearly $23,000 in repairs and upgrades and the whole process took about a month. They sold that condo the first weekend it was listed for $75,000 higher than another nearby condo – with more upgrades and the exact same floor plan — sold for just a couple months before. I use a condo sale as an example here because of the ability to compare exact floor plans, but these same principles apply to houses and estates, too.
The first step, before you lift a paint brush or even a cleaning rag, is to invite your real estate agent to the property. Not only will an experienced Realtor tell you which repairs and upgrades will bring you the most bang for your buck in your neighborhood and price range, she will likely have a list of reputable vendors that can do the job well and timely.
Repairs and upgrades first
Whether you're painting the whole house or just the trim, patching plaster where it's cracked at the corners of your windows, or replacing outdated fixtures, do these first. Workers create dust and dirt, and there is no point in cleaning before they're done. When buyers see one thing that needs to be repaired (a toilet that runs, for example, or a missing wand on a shutter), they subconsciously think that the owner didn't maintain the home, and they wonder what else might be broken.
Decluttering
While the workers are busy repairing and upgrading, start decluttering, inside and out. You're going to move, so think of it as early packing. Box up items you will not need for a few months, get rid of all those stacks of papers, and clean out and organize your closets and cabinets. (Yes, buyers will open your closets.) Make sure all the doors open all the way and remove most of the items off your kitchen and bathroom counters. This helps create a sense of spaciousness no matter the size of your home.
Depersonalizing
Before the repair workers leave, take down your family photos and any art that may not appeal to the masses, and have them patch and paint the nail holes. And change or switch out anything that might appear unusual to someone else or draw significant attention to itself and away from the property. Buyers will name the houses they see, "the green house," or "the Chapala house" — or the "cat art house" for a house that has paintings of cats in every room. I love cats, but you don't want to be known as the "cat house" in buyers' minds.
Cleaning
If you do nothing else, nothing at all in this list so far, just clean. Leave the cat pictures up on the walls if you must, but clean. Clean even if your house is a fixer and a candidate for a major remodel. If you have old green shag carpets that you're sure a new buyer is going to rip out, even so, get them cleaned. If you don't clean, your buyer pool is limited to contractors and bargain hunters. If you do clean, then you get the do-it-yourselfers, the HGTV junkies, and the couple who wants to move in now and fix as they go — a much, much wider buyer pool of folks who are likely to pay more.
Staging and arranging
To get the highest price for your property, you'll want to bring in a professional home stager to create the right look, the right fantasy, to entice buyers. Most people can't envision themselves in a home that's vacant or has too much or poorly arranged furniture, and you want to help them see their dream. Stagers can work with your existing furnishings or bring in their own. In Santa Barbara, your property will stand out if it's professionally staged, and time and time again, I have seen a house with no upgrades (1960s kitchen, dated fixtures) sell for much more than other homes in the neighborhood because it had been artfully staged with complementary furniture and décor.
Reaping the reward
It's a lot of work to prepare your house so that it appeals to as many people as possible, but when you present your property at its fullest potential, you will earn the greatest return. And the reward can be more than financial. "We wanted the buyers to have something nice," said Laurie Hummer of her mom's condo. "I felt a sense of pride in what we were passing along."
© Kalia J. Rork. A version of this article first appeared in December 2014 in Food & Home Magazine, food-home.com.