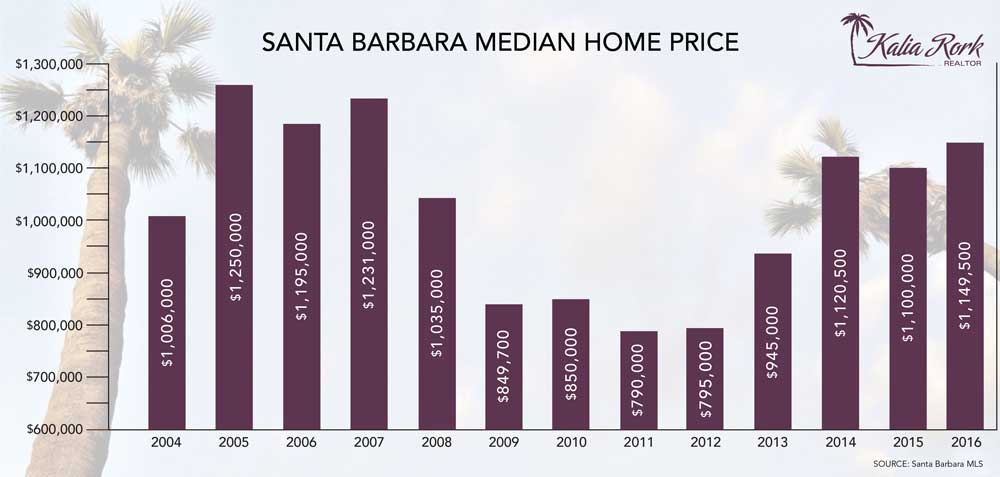 2016 Real Estate Year-End Review
2016 REAL ESTATE YEAR-END REVIEW
Most of us would agree that 2016 was a dramatic and eventful year. It might be a bit reassuring to know that for local real estate, 2016 was a fairly normal and calm year. Refreshingly, we didn't have many surprises. There were almost no foreclosures or distressed sales (just 0.9% of total sales), and our median selling prices for houses and condos didn't change dramatically from 2015.  Interest rates stayed low almost all year (until nearly a half-point jump in November), and we sold almost the same number of houses in '16 as we did in '15.
The selling prices for houses on the Santa Barbara south coast inched up slowly during the first 2/3 of the year, and then moved slightly lower toward the end of the year — which is a normal seasonal trend — ending up with a 4.5% increase in median selling price for houses in 2016. Our median stands at $1,149,500 at the end of 2016, and last year it was $1,100,000. Two years ago (2014) the median for houses was $1,120,500, which is only 2.6% below where it stands now. As you can see in the chart below, the past three years have seen relatively flat prices, with big jumps in 2012 and 2013. We are still 8% below the 2005 peak.
Condominium sales prices were very steady this year, too, with just a 0.9% increase in selling prices from 2015 to 2016. Our median sales price of condos on the south coast of Santa Barbara county stands at $603,000, compared to 2015's median of $597,500. We had 131 (24%) fewer condos sell in 2016 than the year before. That's a big difference; however, at year's end we also had 115 pending condo sales at the new development in Goleta, the Village at Los Carneros. These pending sales will close in 2017 when the construction is complete and make up for most of the lower sales numbers in 2016.
Realtors use a statistic called "months of inventory" to get a quick temperature of the market and determine whether it's more of a buyer's market, a seller's market, or neutral. If the months-of-inventory number is under 3, that is considered a seller's market. If it's over 6 months, that's considered beneficial to buyers. At the end of 2016, we had 4.0 months of inventory for houses, moving us more into neutral territory, compared to 3.6 months at the end of 2015, and compared to a solid seller's market with 3.0 months at the end of 2014. For condos we have just 2.2 months of inventory as we close out 2016, continuing the seller's-market trend in condo sales for the past five years. Note that even though property inventory is low, prices were somewhat stable in 2016.
2017 FORECAST
We're entering uncharted territory in real estate. It's hard to predict how the new U.S. administration will affect interest rates, home prices, and sales volume, but I imagine we'll continue our current trends locally. I predict prices will rise just a tad or stay flat, sales volume will be similar to last year, and we will finally have a little more inventory of homes for sale in Santa Barbara. I agree with most pundits that mortgage interest rates will rise and fall slightly throughout the year, but end up higher than 2016.