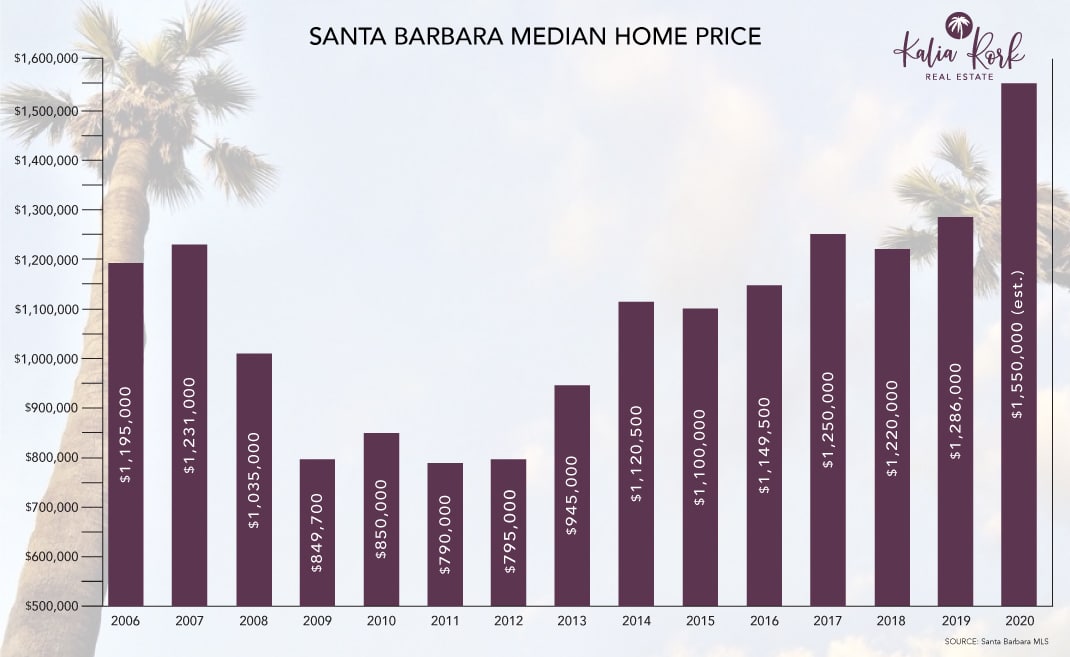 2020 Record Real Estate Year in Santa Barbara
by Kalia Rork
Santa Barbara posted record high real estate prices in 2020. Every district, from Goleta to Carpinteria, recorded the highest median sales prices ever in our area. Many people were surprised by the brisk pace of real estate sales, increasing demand, and higher prices here during the summer and fall — even with the restrictions of the pandemic. Rather than experience our usual seasonal slow down during the winter, that brisk pace continued through the end of 2020. Prices continued to increase throughout the fourth quarter, as did sales. At the end of 2020, the median selling prices for all houses was $1,550,000, which is 20.5% higher than the year before and a record high median price for our area (Santa Barbara south coast). We saw 1,336 houses close escrow during 2020, which is 14% more than sold in 2019, and that was with almost no activity for March and April. Although not a record, 2020 had the highest number of sales since the year 2000. It would be even higher if there had been more homes for sale!
Low inventory
Let's discuss inventory first, and then prices and buyer demand. If you're a home buyer, you know there is very low inventory. We measure inventory in terms of the number of months it would take for all homes to sell if no new houses hit the market. Keep in mind, a market balanced between buyers and sellers is 4 to 6 months of inventory. Anything below 3 months is considered very beneficial to sellers, a strong seller's market. This current inventory is the lowest I've seen in 20 years of selling real estate: 1.3 months for all houses, and 1.1 months for the entire market (houses, condos, mobile homes). The inventory for condos at the end of 2020 is just 0.6 months – meaning that in just 18 days, there would be no condos for sale if there were no new listings! In the districts of Goleta and Santa Barbara, inventory is also less than one month at 0.8. Carpinteria stands at 1.8 months, and our high-priced areas of Hope Ranch and Montecito have just 0.8 months and 3.5 months of home supply, respectively. All market segments are experiencing a strong seller's market, as you can see on the right side of Table 1, above.
Even though total sales are up 14%, the number of homes listed for sale is up only 5% from 2019. Looking at past years, the supply of homes has remained relatively consistent. What has changed is buyer demand. A whopping 88% of all houses that went on the market sold in 2020 – another record. That percentage is usually about 65–75% and can be as low as 50% in slow years.
It's common to have multiple offers on homes that are priced right, sometimes as high as a dozen or more offers. We're seeing this especially in areas like Goleta and Santa Barbara where supply is low. While we may not be seeing a dozen offers on our estate properties, these multimillion dollar homes are selling much more quickly than in the past. Many Montecito properties currently sell right away at over asking price, too.
The Wall Street Journal recently reported that during a particular 30-day period in late 2020, the number of homes sold in Montecito rose 411% over that same period the year before. Since this is a relatively small market, we can see those types of variations when looking at a small segment of time, so it's important to look at the year as a whole. Still, the number of sales in Montecito is up 59.6% in 2020 over 2019 (300 sales in 2020 vs 188 sales in 2019). While not 4 times as many, this is a huge increase, particularly when you consider that the average number of Montecito houses sold in the past 15 years is 180 per year. The number of closings in Hope Ranch is up to 43, versus 36 the previous year, a 19.4% increase. The pandemic has highlighted how important home is during these very challenging times and is motivating people to move. Much of the increase in our higher-priced neighborhoods is driven by people who can move out of urban areas and work remotely.
The demand for the non-luxury market is influenced by the pandemic, too, and people needing more space, a different type of home, wanting to be closer to relatives, etc. But it's also more interest-rate driven. Mortgage rates are very low, which makes housing more affordable over the long term. Rates are still under 3% for a 30-year fixed mortgage. The thought of these long-term savings is a strong motivator to buy.
Rising prices
The left side of Table 1 shows the median sales prices for each of our districts at the end of 2020. Every single district broke a record in median sales prices. Overall, house prices are up 20.5%, but that represents the mix of homes sold as well as price appreciation. Over a hundred more Montecito homes sold in 2020 than the year before, and that brings up the median price of the market as a whole. If we take out Montecito and Hope Ranch, the median price is up 10.4% for houses. It's fair to consider this an estimate of your appreciation level for the year, but every neighborhood is different, so talk to your Realtor if you'd like specifics.
Condo prices across all districts are up as well with a median of $737,000 compared to $669,180 the year before, an increase of 10.9%.
Not just Santa Barbara
Demand for housing is up across the United States. The National Association of Realtors reported this month that existing-home sales in 2020 surged to the highest level in 14 years, landing 22% higher than a year ago. Inventory levels are at record lows across the nation, and median price in the US is up 13% overall.
We predict the local market will remain strong in 2021. Inventory will remain low, but perhaps not as low as 2020, and prices will continue to rise, but not as steeply as they did last year. We will give you another update in this column after the first quarter of 2021. In the meantime, stay in touch with your Realtor to find out if it's the right time for you to buy or sell and what the market is doing in your neighborhood. These are challenging times when home and homeownership have become more important than ever.
Median sales price for each of our districts, as well as the number of closed escrows and the months of inventory. Every single district hit a record sales price in 2020.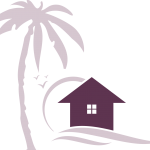 This article first appeared in The Santa Barbara News-Press and in Voice Magazine. Kalia Rork is a full-time real estate professional with Berkshire Hathaway HomeServices California Properties. She is a member of the Santa Barbara Association of Realtors Statistical Review Committee and has been a featured speaker three times at the annual Real Estate Market Update conference.